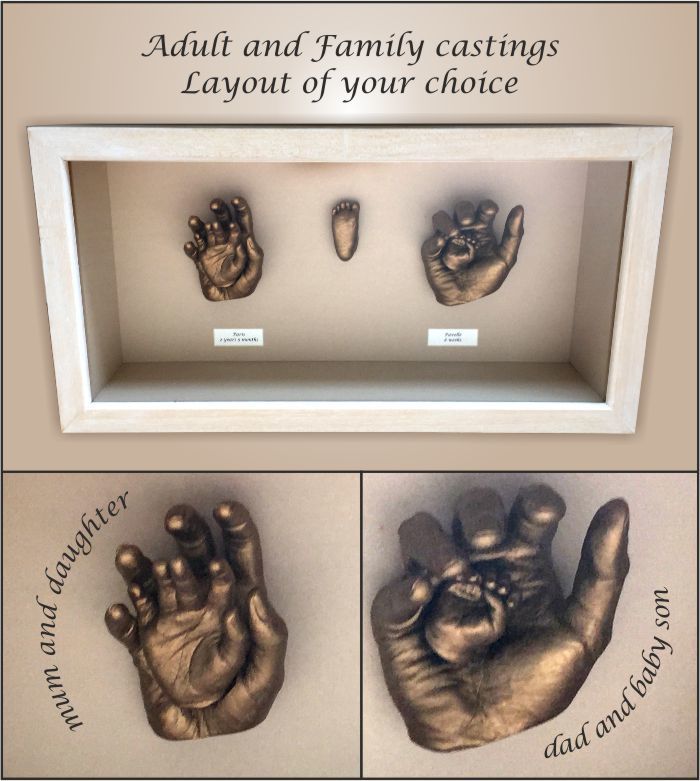 Family casting keepsakes are a treasure, in years to come you can always be reminded of how small your childrens hands were and the memories when you all were wrapped up in a busy family life.
Adult hands require deeper presentation frames, all are purposefully manufactured to size for Babyprints.
When visiting Babyprints you can choose from the many different presentation ideas or you may have an idea of your own.
The framed family casts in the right photo was produced for a client by Christine in Tunbridge Wells.
The client chose the layout as seen with the parents holding their childrens hands, Mum with daughter and Dad with son.
The chosen style of presentation is a spacer style where there is no mount. The frame is limed wood and the inner and background colour is stone.
you can visit Christines business web page for more information and contact details

Find your nearest Babyprints and book an appointment or call 08432 162161 for more details.
---
Adult and family casting keepsakes – Christine Sharman – babyprints.co.uk
https://babyprints.co.uk/wp-content/uploads/2019/08/Adult-and-family-casting-keepsakes.jpg