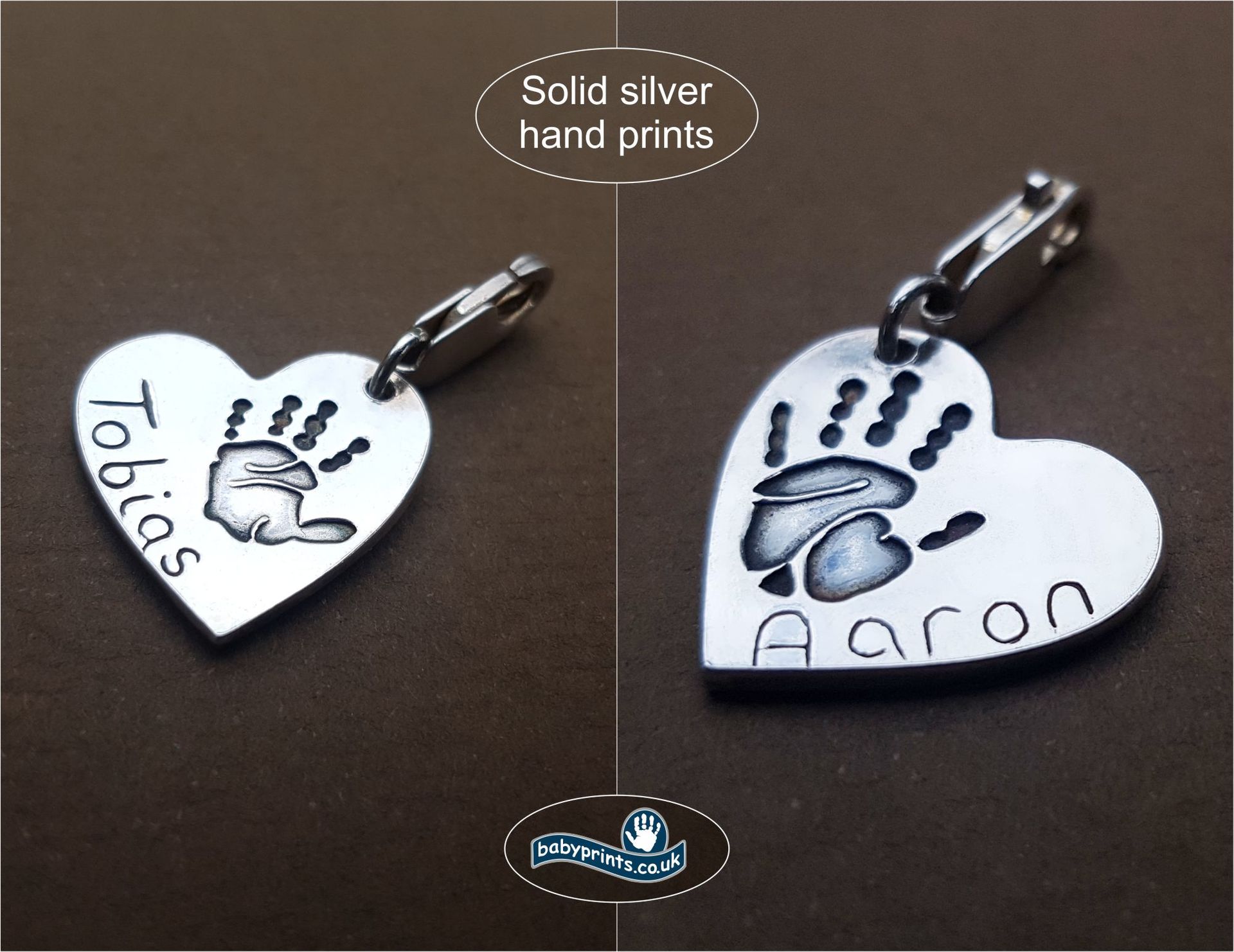 Babyprints near Nantwich in Cheshire produces stunning hand and foot print detail in life casting and jewellery.
In the photo you can see a double sided solid silver heart charm with Tobias on one side and brother Aaron on the other side.
Both prints reveal the exact detail and curvature of each of the brothers hands.
Babyprints also provide a Clasp attachment on solid silver hand print charm.
The Clasp attachment is in sterling silver for strength and can be used to attach to the Love Links bracelets or similar.
If you want to contact Nantwich Babyprints about this service, visit the Nantwich Babyprints in Cheshire webpage for details.
If you would like to know more details from Head Office please call o1279 656525 or email us at [email protected]
You can also find your nearest Babyprints by selecting your location on the UK map.

If you are thinking of a Jewellery gift, the links below lead to many ideas and styles.
Solid silver charm ideas
Cufflink Ideas
Key ring and dog tag Ideas
Below are links to various life casting styles.
View many classic product ranges here
view bespoke designs chosen by our customers here.
Classic Baby hands and feet presentation frames
Rococo style Swept Frame presentations
Family hand print and foot print presentation frames
you can also download the Babyprints Product Brochure showing samples of our classic ranges.
---
Clasp attachment on solid silver hand print charm – babyprints.co.uk
https://www.babyprints.co.uk/wp-content/uploads/2017/11/Clasp-attachment-on-solid-silver-hand-print-charm.jpg