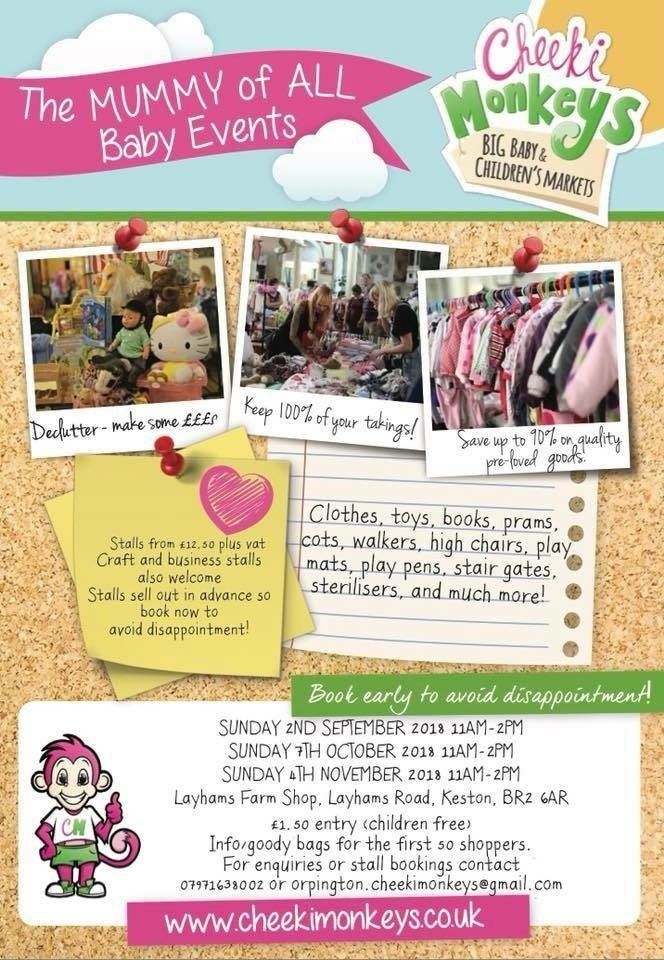 ♦ CHEEKI MONKEYS ♦
Babyprints in Orpington, will be exhibiting at the Cheeki Monkeys Big Baby & Childrens Markets show on Sunday 2nd September 2018 at Layhams Farm Shop, Keston.
At the event there will be clothes, toys, books, prams, cots, walkers, high chairs, play mats, play pens, stair gates, sterilisers and much more!
Find out more about the Cheeki Monkeys event at https://www.facebook.com/487693521421756/posts/872757326248705/
Emma at Babyprints Orpington says:
"I am very excited to be exhibiting at the first Cheeki Monkeys Baby & Children's Market at Layhams Farm Shop, Keston, BR2 6AR on Sunday, 2nd September from 11am-2pm.
Come along to say hello and see a selection of our framed 3D hand & foot casts and statues.
Special offers available for all bookings taken on the day !"
Babyprints produce stunning quality casts for babies with fresh designs and styles to wall mount.
Families and pets are also catered for with presentations to match your preferences, great gift ideas.
For information on products and services from Babyprints Bromley and Orpington you can visit the Babyprints Bromley webpage and view samples, testimonials and contact information.
If you are thinking of a cast gift, the links below lead to many ideas and product styles.
View many classic product ranges here
view bespoke designs chosen by our customers here.
Classic Baby hands and feet presentation frames
Rococo style Swept Frame presentations
Family hand print and foot print presentation frames

Solid silver charm ideas
Cufflink Ideas
Key ring and dog tag Ideas
To find your nearest Babyprints, select your location on the UK map.
you can also download the Babyprints Product Brochure showing samples of our classic ranges.
---
Babyprints at Cheeki Monkeys – babyprints.co.uk
https://babyprints.co.uk/wp-content/uploads/2019/07/Babyprints-at-Cheeky-Monkeys.jpg