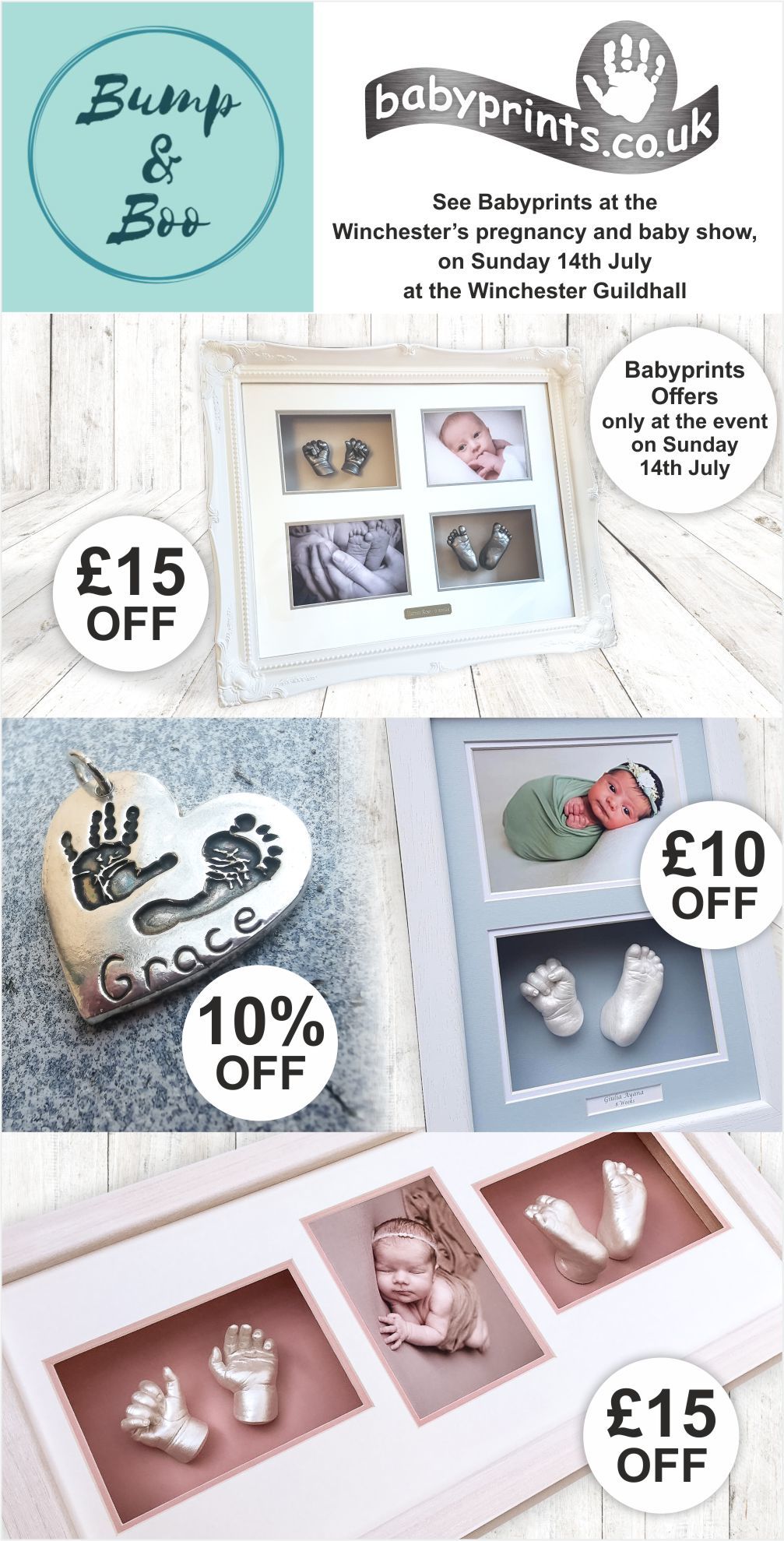 Babyprints by Zoe is visiting Winchester!
We are excited to say that Babyprints By Zoe will be exhibiting at the wonderful Bump & Boo event, Winchester's original pregnancy and baby show, on Sunday 14th July at the Winchester Guildhall.  This is an exclusive event centered around new and expectant parents, where you will be able to find hundreds of unique local and handmade products, not least of which will be Zoe's beautiful bespoke 3D baby casts and solid silver jewellery!
Zoe is a professional life caster and is our South Hampshire casting specialist based in Botley, near Southampton.  She specialises in creating beautiful bespoke 3D casts of babies' and children's hands and feet.  Not limited to only the youngest members of the family, she also often casts Parents, Grandparents and whole families, resulting in stunning pieces of art that are cherished for generations.  Her casts are exceptional and finished to the highest possible standard, capturing every tiny detail in perfect replica. Whether it be a freestanding statue or framed cast you would like, Zoe will capture your most special moments, creating treasured memories for you that will last a lifetime.
Zoe will not only be showcasing a selection of frames and casts on her stall on the day – plus of course taking bookings for future 3D casting appointments; but she will also be offering a special on the day 10% discount on jewellery orders taken at the event.  So if you're after a really special item for yourself or a loved one whilst you're at the event, pop along and see her on her stand where she will be able to take your children's hand and footprints whilst you wait, which can then be put on to a wide selection of solid silver jewellery, such as charms, cufflinks, keyrings or dog tags.
Also, to those customers at the show confirming advance bookings for a private 3D casting appointment with Zoe at her home studio in Botley, she will be offering another special on the day discount of £10 off a 2 cast frame and £15 off a 4 cast frame, an exclusive event-only offer for her truly exceptional bespoke work.
Tickets will be on sale soon at https://www.ticketsource.co.uk/whats-on/winchester/guildhall-winchester/bump-boo or via their Facebook page www.facebook.com/bumpandboo/
From tiny babies that are a few days old to large family linked hands casting, the Babyprints Southampton will have a personalised casting solution that suits your needs.
If you would like to know more details please call 01279 656525, you can also email us at [email protected]

To find your nearest Babyprints, select your location on the UK map.
If you are thinking of a cast gift, the links below lead to many ideas and product styles.
View many classic product ranges here
view bespoke designs chosen by our customers here.
Classic Baby hands and feet presentation frames
Rococo style Swept Frame presentations
Family hand print and foot print presentation frames

Solid silver charm ideas
Cufflink Ideas
Key ring and dog tag Ideas
you can also download the Babyprints Product Brochure showing samples of our classic ranges.
---
Winchester's pregnancy and baby show – babyprints.co.uk
https://babyprints.co.uk/wp-content/uploads/2019/07/Winchester-Baby-Show-July-2019.jpg