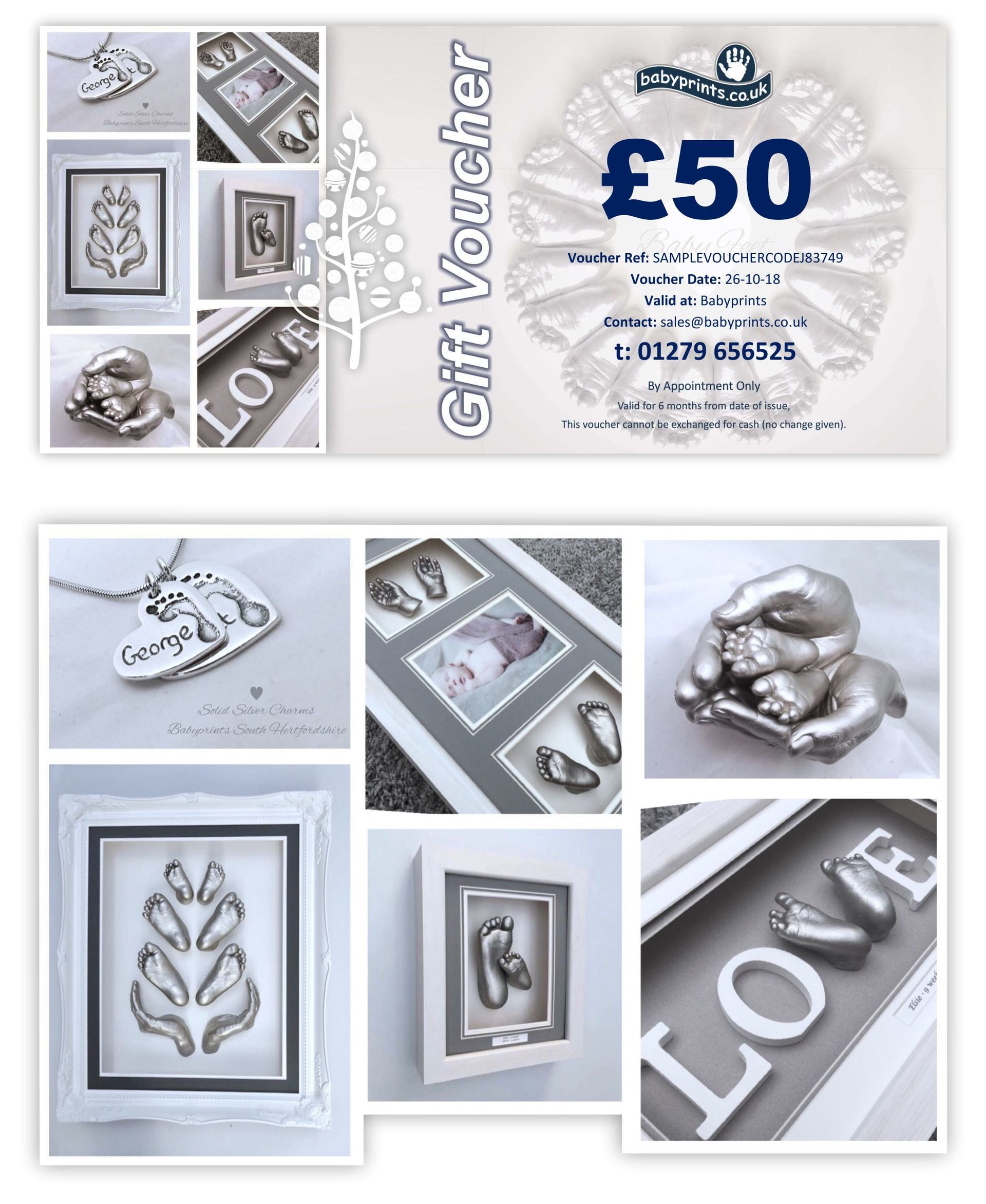 A Voucher gift this Christmas from Babyprints is a good way for someone to choose their own gift, when their is a new baby, or one due over Christmas, or soon after a Babyprints gift voucher is unique and thoughtful idea.
Babyprints are not only about babies, Babyprints casts cater for any age, our family casting solutions are becoming very popular and can also be purchased with the gift voucher.
In the photo you can see various stunning personalised casting works on the voucher which will give the voucher owner some good ideas of what they might like for their family.
The products on the photos were produced by Babyprints South Herts, you can visit the Babyprints South Herts webpage and view samples, testimonials and contact information.
To get your own Gift Voucher, you can find your nearest Babyprints, select your location on the UK map.
If you are thinking of a cast gift for Christmas, the ideas and links below may help discover the perfect gift.
Newborn to mum (Dad organises): tiny hand and feet casts with that first gorgeous photo. "Happy Christmas Mum and thank you mum for bringing me into the world"
Gifts for the Family: a family gift on Christmas day is a lovely idea.
Jewellery for mum or dad: a solid silver item of jewellery capturing a hand and/or foot print with inscription.
View many classic product ranges here
view bespoke designs chosen by our customers here.
Classic Baby hands and feet presentation frames
Rococo style Swept Frame presentations
Family hand print and foot print presentation frames

Solid silver charm ideas
Cufflink Ideas
Key ring and dog tag Ideas
you can also download the Babyprints Product Brochure showing samples of our classic ranges.
---
Voucher gift this Christmas – babyprints.co.uk
https://babyprints.co.uk/wp-content/uploads/2019/07/Voucher-gift-this-Christmas2.jpg|http://www.babyprints.co.uk/wp-content/uploads/Voucher-gift-this-Christmas.jpg|http://www.babyprints.co.uk/wp-content/uploads/Voucher-gift-this-Christmas1.jpg