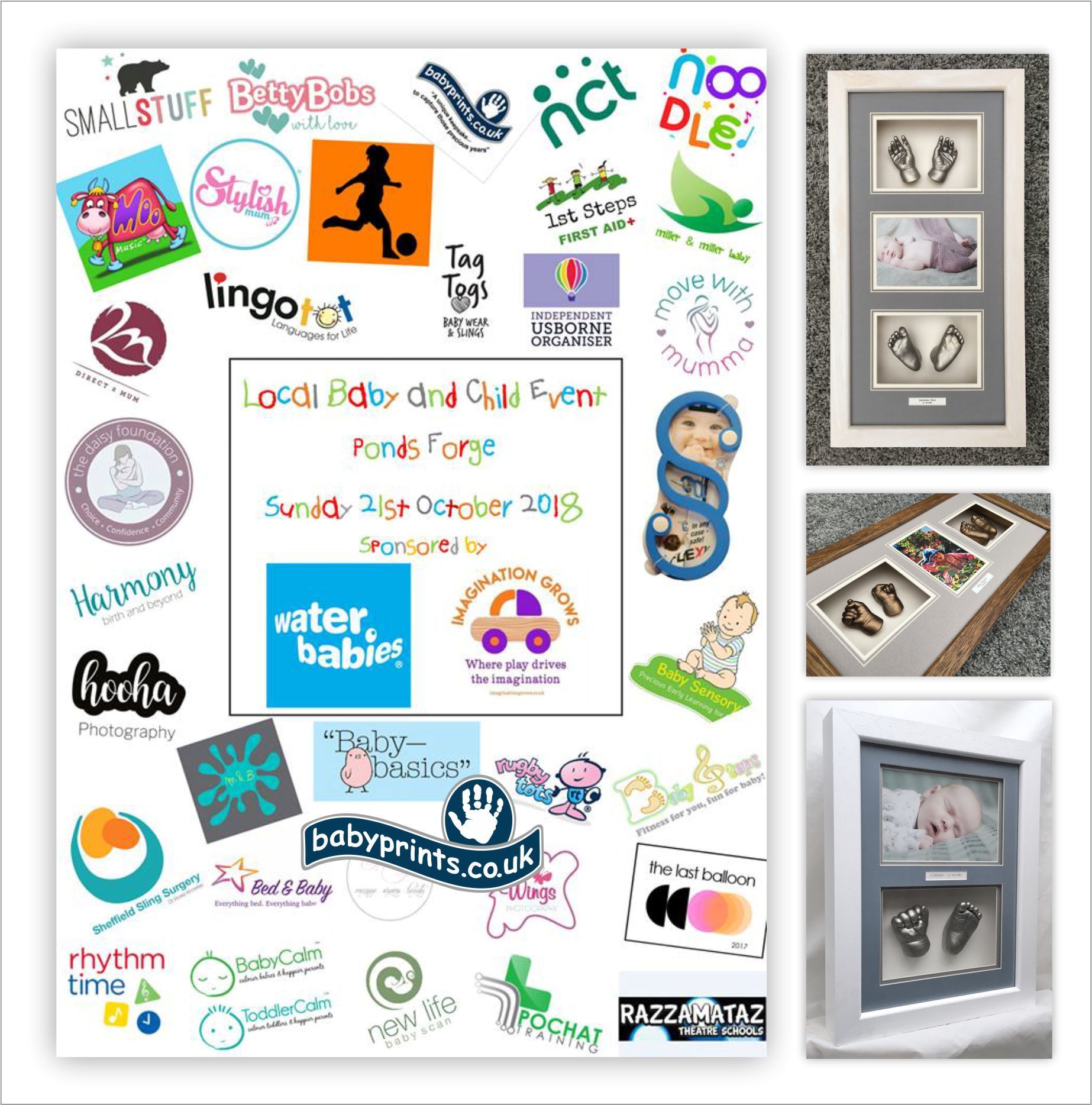 Babyprints Sheffield will be exhibiting at the South Yorkshire Local Baby and Child Event on Sunday 21st October 2018 at Ponds Forge International Hall.
The Local Baby and Child Event is a new and exciting baby and child fayre that will bring South Yorkshire's local families and local businesses together.
?Whether you're an expectant family or already have your bundle of joy, this event is sure to meet your every requirement. All the businesses at this exhibition will be local to the South Yorkshire and North Derbyshire regions. They will be on hand to offer their products and services, and of course their advice, guidance and special event day offers.
South Yorkshire's biggest baby and child fayre is on Sunday 21st October at Ponds Forge.
From 10.30am we'll have things happening on the stage all day, including: a dry-side taster swim session with Water Babies, a mini fashion show with Bettybobs Clothing, a performance from Razzamataz, a taster session from Noodle and we'll have the Sheffield Sling Surgery and Library talking about slings and babywearing. Away from the stage Truly Scrumptious will be doing free 10 minute complementary taster massages, and we'll have a comfy feeding area and a play area with lots of toys including some lovely wooden toys from Imagination Grows.
Anyone who purchases a ticket before the event will be entered in to a draw to win cash to spend in the day. And we'll have 3 huge prize hampers to give away too, full of vouchers and goodies from our amazing exhibitors.
All of this is on top of bringing you loads of top local businesses all in one place, with great shopping opportunities, and experts who can give you the advice you want.
10% of all ticket sales will go to Baby Basics, a local charity supporting local families in poverty. Tickets are available from:
https://events.ticketsforgood.co.uk/events/724-local-baby-and-child-event-south-yorkshire
You can see a lot of company logos in the image and you can also Check out the exhibitiors on the day at https://www.localbabyandchildevent.co.uk/exhibitors
You can also Visit the facebook site at: https://www.facebook.com/localbabyandchildevent/ 
The event tickets are selling quick, they are cheaper if you buy them online beforehand, and you get entered in to a draw to win cash to spend on the day!
Have you got yours yet?
Come and see Babyprints Sheffield showcase a range of stunning Babyprints products and arrange an appointment on the day for your family casts
For more details on services across the UK please call 01279 656525, you can also email us at [email protected]

To find your nearest Babyprints, select your location on the UK map.
If you are thinking of a cast gift, the links below lead to many ideas and product styles.
View many classic product ranges here
view bespoke designs chosen by our customers here.
Classic Baby hands and feet presentation frames
Rococo style Swept Frame presentations
Family hand print and foot print presentation frames

Solid silver charm ideas
Cufflink Ideas
Key ring and dog tag Ideas
you can also download the Babyprints Product Brochure showing samples of our classic ranges.
---
South Yorkshire Local Baby and Child Event – babyprints.co.uk
https://babyprints.co.uk/wp-content/uploads/2019/07/South-Yorkshire-Baby-and-Child-Event.jpg