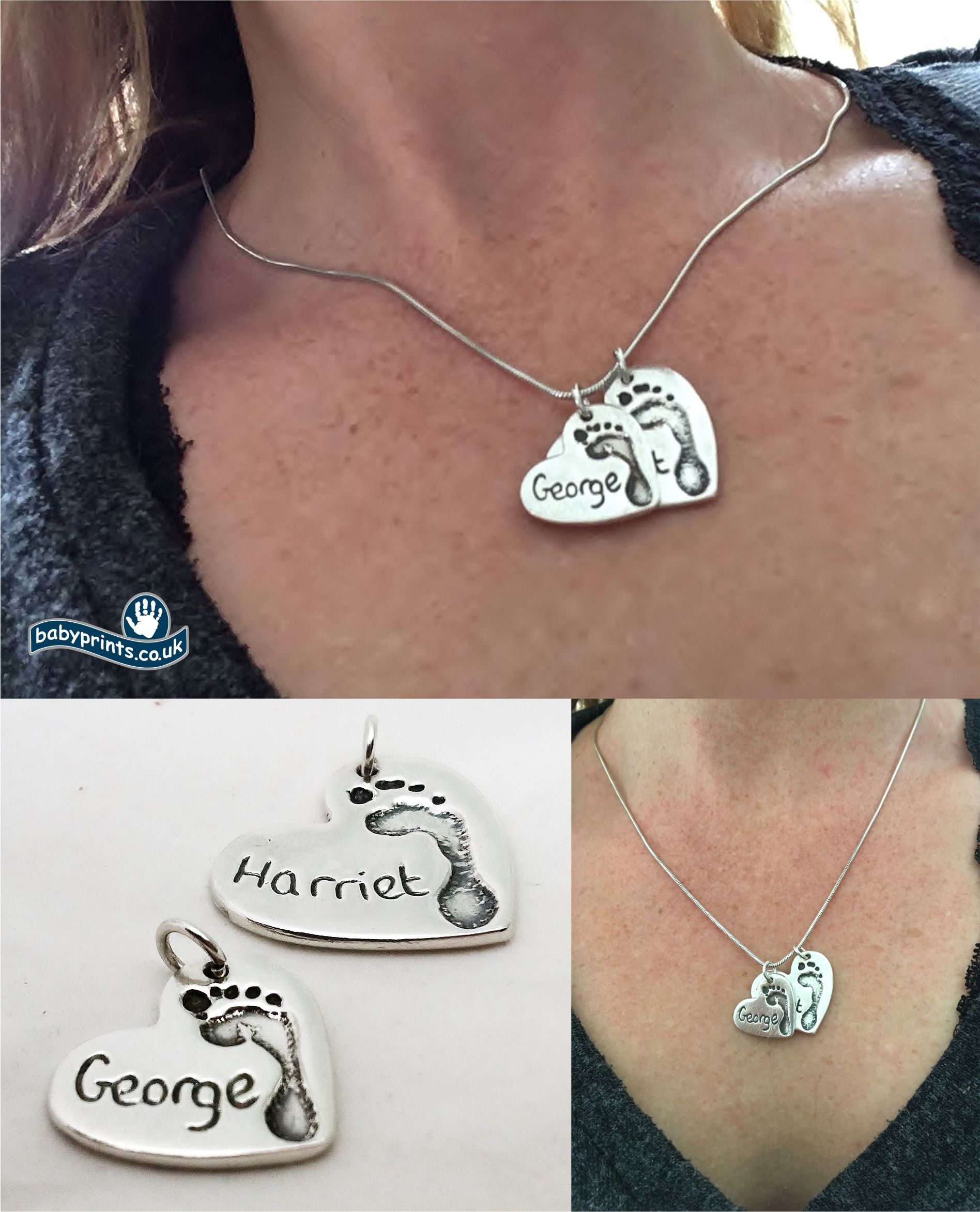 Babyprints jewellery combines the quality of babyprints detail and casting with solid silver charms, keyrings, dogtags and cufflinks.
All the detail that comes out in any individual print will be replicated in solid silver.
In the photo you can see sibling foot prints of Harriet and George, two different sized heart charms to resemble the age gap.
Personalised jewellery make great gifts for all occasions, each is handmade so that no two pieces of jewellery are ever the same.
If you would like to have a personalised item of jewellery for a Birthday, anniversary or Christmas why not contact your nearest babyprints and see how they can help you.
You can always visit the uk map and select your nearest location.
These beautiful foot prints in the photo was taken by Babyprints Hatfield.
If you would like to know more details please call 01279 656525, you can also email us at [email protected]

To find your nearest Babyprints, select your location on the UK map.
For more ideas on jewellery designs why not browse the links below…
Solid silver charm ideas
Cufflink Ideas
Key ring and dog tag Ideas
If you are thinking of a cast gift, the links below lead to many ideas and product styles.
View many classic product ranges here
view bespoke designs chosen by our customers here.
Classic Baby hands and feet presentation frames
Rococo style Swept Frame presentations
Family hand print and foot print presentation frames
you can also download the Babyprints Product Brochure showing samples of our classic ranges.
---
Solid Silver personalised jewellery in Hatfield  – babyprints.co.uk
https://www.babyprints.co.uk/wp-content/uploads/2017/11/Solid-Silver-personalised-jewellery-in-Hatfield.jpg