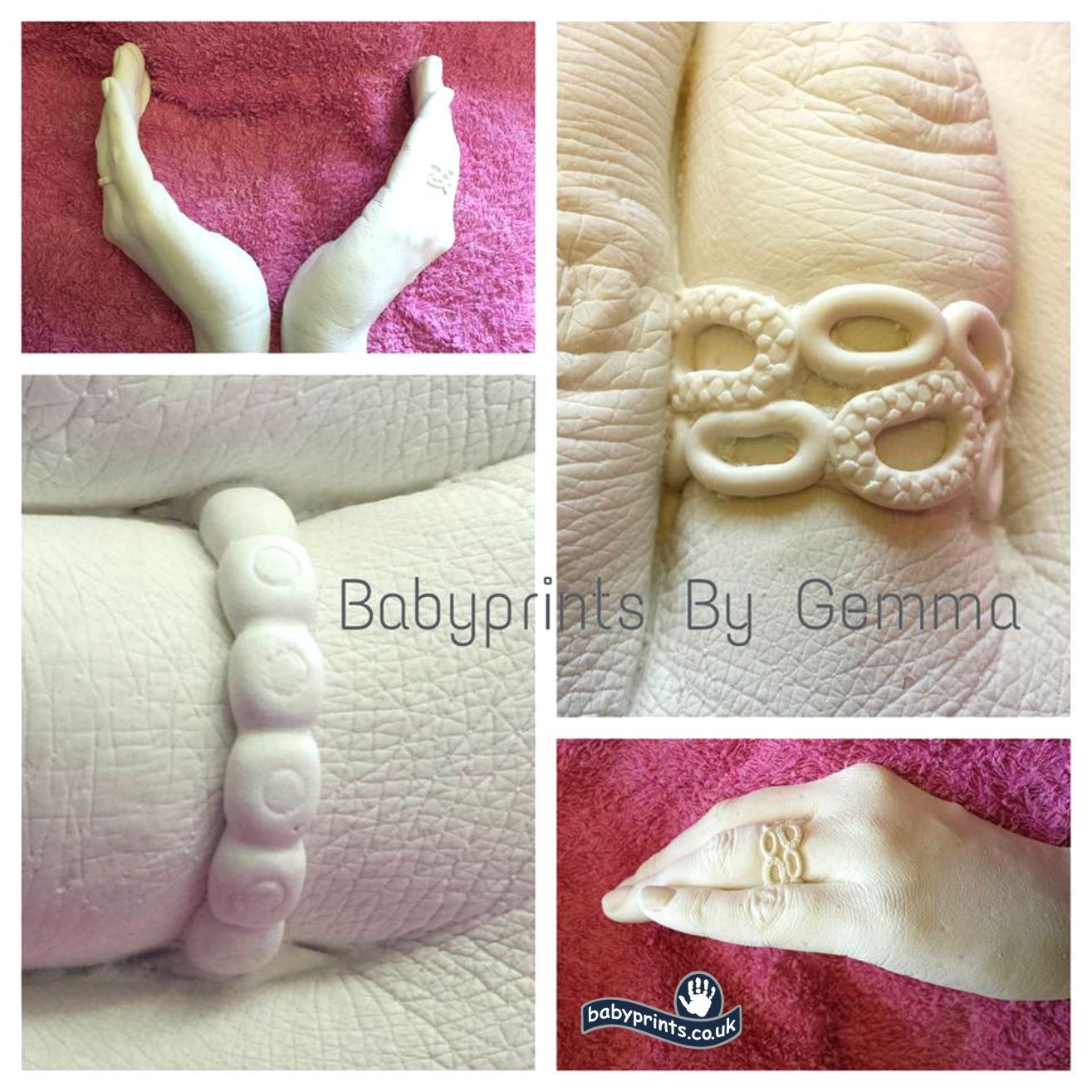 Babyprints is all about the quality of casting, whether its a baby hand and foot or adults hands and feet, the individual detail will be brought out in the final product.
In the images you can see an adult casting piece of work that shows every crease and curve unique to that person, you can even see casts of the rings worn on the fingers.
Gemma from Babyprints Nantwich provide a quality hand casting service near Chester with the option to display them in many framing syles and colour combination.
When attending an appointment, you can ask to see the Babyprints range of frames including the Classic, Oak wood and Rococo Swept frame styles.
The photos on the right are of a live worlk in progress and were taken by Gemma at Babyprints Nantwich
Notice the quality of casting and finishing, high attention to detail ensures a product you will treasure for life.
Below is a testimonial from many that can be found on Gemma's web page
Testimonial from Customer
"Gemma is just outstanding. From the moment I emailed regarding my request she was very clear with the whole process and organised an appointment as soon as possible. I made sure to contact her before the birth of my second daughter as I could see how busy she was.
On the casting day I turned up with my two daughters (3 years old and my 4 day old new addition). Gemma was very welcoming and made my… three year old feel at ease. The whole process took less than 30 minutes including my indecisive decision making due to the selection of frames and colours! Without Gemma's experience and help with choosing a colour style and layout the final product wouldn't have been anywhere near as special. I originally wanted a landscape frame but was advised by Gemma to consider a portrait frame due to the difference in sizes of the two sets of casts. I agreed to follow her advice and I'm so glad I did.
I collected the frame ahead of my expected date and I was overwhelmed. It was a surprise gift for my wife for Mother's Day and I couldn't help but give it to her early. She absolutely LOVES it."
you can visit Gemmas business web page for more information, sample works and contact details.

Find your nearest Babyprints and book an appointment or call 08432 162161 for more details.
---
Quality hand casting service near Chester– babyprints.co.uk
https://www.babyprints.co.uk/wp-content/uploads/2016/10/Quality-hand-casting-services-near-Chester.jpg