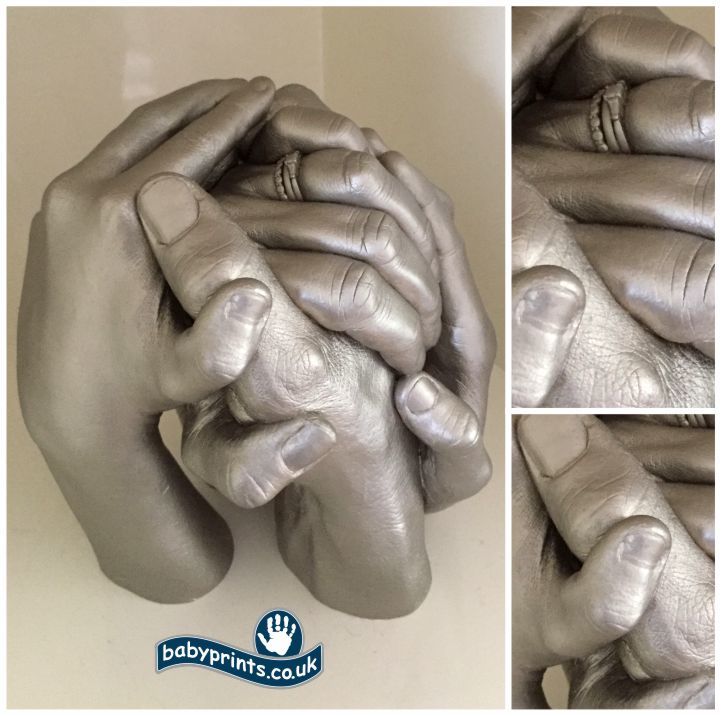 Babyprints produce beautiful Family clasping hands statues which can be stand alone or presented in a frame for wall display.
This family holding hands statue in the photo was produced by the Tunbridge Wells Babyprints
Capturing a family cast before everyone grows up is a lovely way to seize a moment in time, all ages are represented in the size of hand and the personal detail is a lovely reminder of each family members personality at that time.
Your family will grow up quickly so why not have a work of family art now that will stand pride of place in your home forever.
If you would like more information on all the Tunbridge Wells Babyprints, contact Christine through the Tundbridge Wells webpage.
You can find more photos of finished Babyprints family presentation ideas here
If you would like to get ideas on how to display your casts you can click on the links below which will take you to pages containing many product variations,
you can also download the Babyprints Product Brochure here
Classic Baby hands and feet presentation frames
Rococo style Swept Frame presentations
Family hand print and foot print presentation frames
You can also find product samples of our quality prints in solid silver jewellery here and browse through the Latest News pages past and present here, which can give you many ideas.
Find your nearest Babyprints and book an appointment or call 08432 162161 for more details.
---
Family clasping hands statues  – babyprints.co.uk
https://www.babyprints.co.uk/wp-content/uploads/2017/02/Family-of-hands-statue.jpg