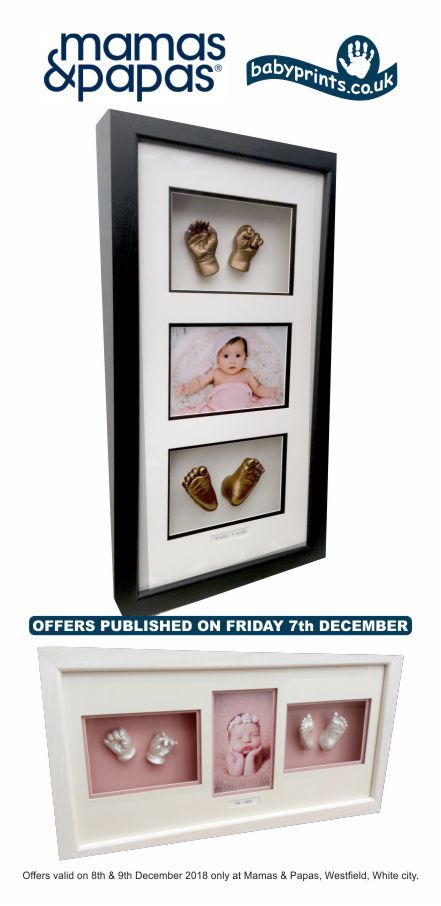 *** Babyprints Exclusive Offers on the 8th and 9th December at
Mamas and Papas Westfield, White City ***
This is your chance to bag a great Babyprints offer before christmas,
Babyprints will be available for casting appointments on Saturday the 8th December and Sunday the 9th December at Mamas and Papas White City, Westfield, West London.
Various Products will be on offer for these two days only including photo frames, stand alone statues, solid silver jewellery and presentation styles.
Appointments can be made now for limited time slots on each day or you can turn up at Mamas and Papas and ask for an appointment on an alternative date.
All that is booked on the two days will contain the offers.
If you are thinking of having casts made but are unsure at this time, you can turn up on the day and their may be an opportunity to have an appointment on the day.
Castings on the day are limited and worked on a First come, first served basis.
If you would like to know more details on this 2018 event please call 01279 656525, you can also email us at [email protected]
To find your nearest Babyprints, select your location on the UK map.
If you are thinking of a cast gift, the links below lead to many ideas and product styles.
View many classic product ranges here
view bespoke designs chosen by our customers here.
Classic Baby hands and feet presentation frames
Rococo style Swept Frame presentations
Family hand print and foot print presentation frames

Solid silver charm ideas
Cufflink Ideas
Key ring and dog tag Ideas
you can also download the Babyprints Product Brochure showing samples of our classic ranges.
---
Exclusive Offer December 2018  – babyprints.co.uk
https://babyprints.co.uk/wp-content/uploads/2019/07/Babyprints-Offers-MP-08-12-18.jpg|http://www.babyprints.co.uk/wp-content/uploads/Mamas-Papas-Offers-08-12-18.jpg