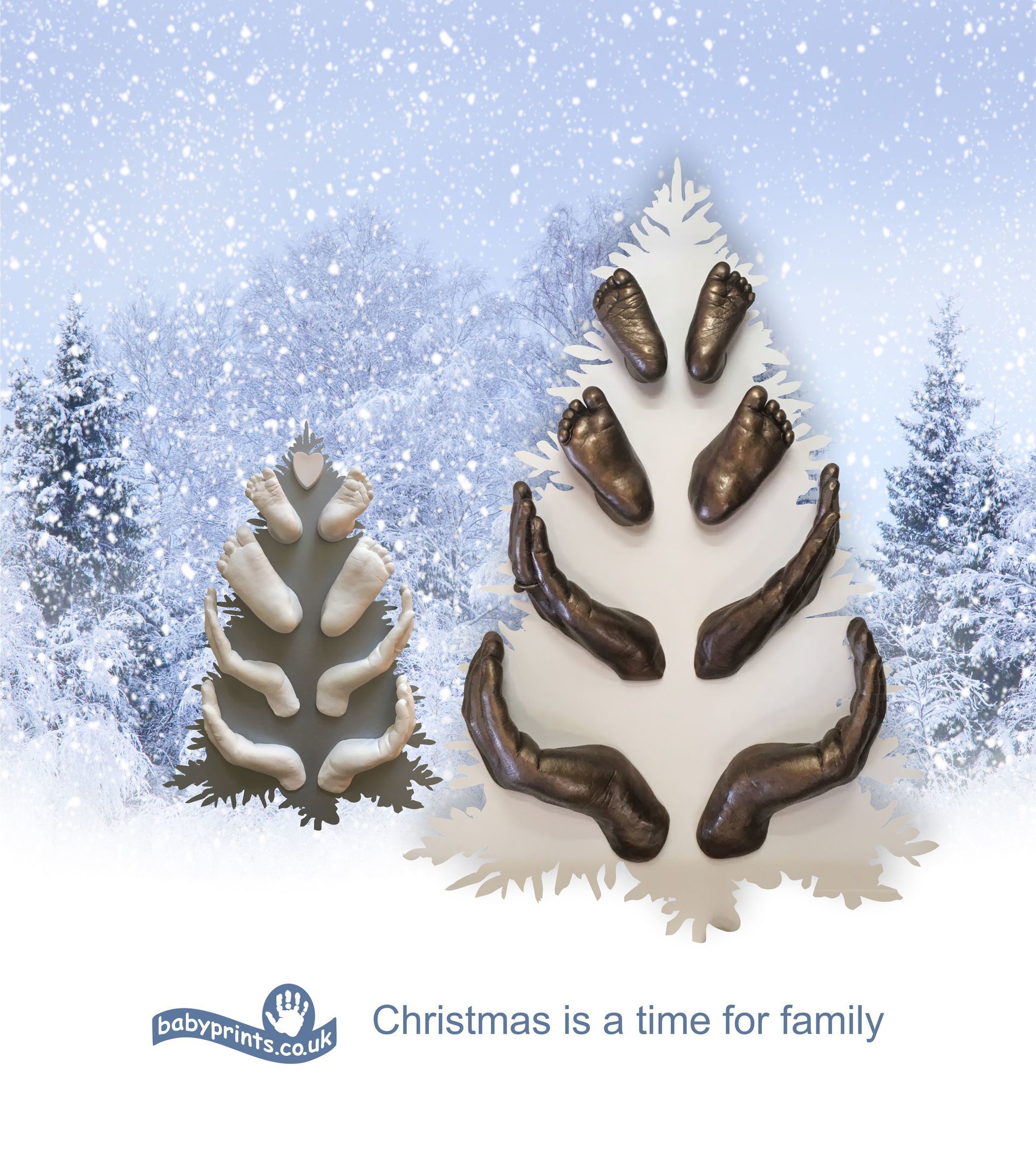 The evergreen fir tree has traditionally been used to celebrate winter festivals (pagan and Christian) for thousands of years. Pagans used branches of it to decorate their homes during the winter solstice, as it made them think of the spring to come. The Romans used Fir Trees to decorate their temples at the festival of Saturnalia. Christians use it as a sign of everlasting life with God.
Nobody is really sure when Fir trees were first used as Christmas trees. It probably began about 1000 years ago in Northern Europe. Many early Christmas Trees seem to have been hung upside down from the ceiling using chains (hung from chandeliers/lighting hooks).
The Babyprints family tree is a recent production and is becoming increasingly popular. have a look here http://www.babyprints.co.uk/hands-and-feet-family-tree/ and see how these can be framed and presented for generations of family to admire.
If you would like to know more details please call 01279 656525, you can also email us at [email protected]

To find your nearest Babyprints, select your location on the UK map.
If you are thinking of a cast gift, the links below lead to many ideas and product styles.
View many classic product ranges here
view bespoke designs chosen by our customers here.
Classic Baby hands and feet presentation frames
Rococo style Swept Frame presentations
Family hand print and foot print presentation frames

Solid silver charm ideas
Cufflink Ideas
Key ring and dog tag Ideas
you can also download the Babyprints Product Brochure showing samples of our classic ranges.
---
Christmas is a time for family  – babyprints.co.uk
https://babyprints.co.uk/wp-content/uploads/2019/07/Christmas-is-a-time-for-family-2.jpg|http://www.babyprints.co.uk/wp-content/uploads/Christmas-is-a-time-for-family.jpg|http://www.babyprints.co.uk/wp-content/uploads/Christmas-is-a-time-for-family-Babyprints.jpg