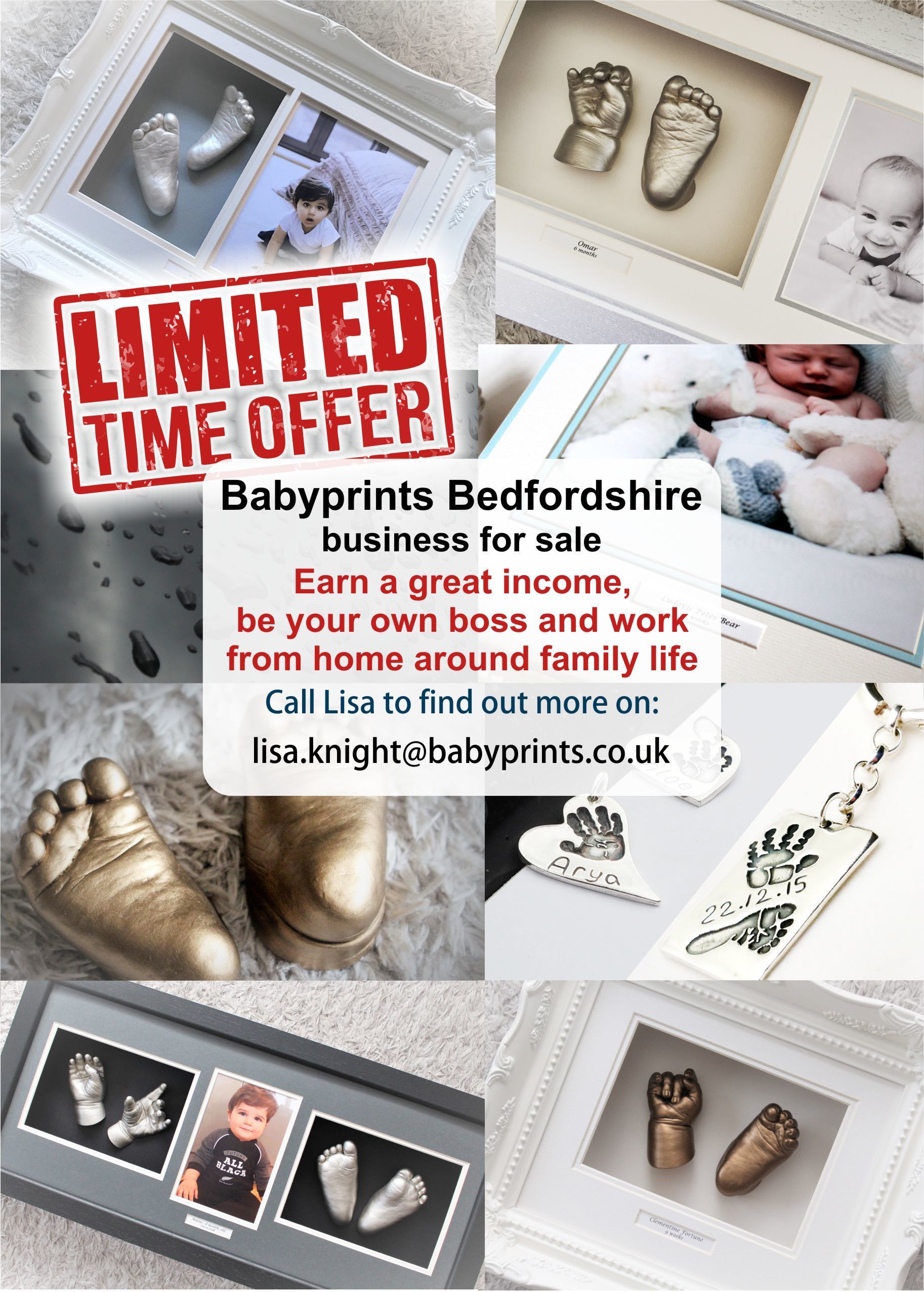 Do you want to earn a great income whilst running your own business from home with full flexibility and huge potential for growth?
A rare and exciting opportunity to take over a home-based franchise business to suit your family life whilst generating very good income.
Babyprints in Bedfordshire is part of the UK's leading brand in 3D casting and impressions, The business is perfect if you have a passion for creativity, enjoy meeting new people, and want to grow your own business whilst working around your home/family life.
---
Babyprints business for sale – Babyprints Bedfordshire
Established Babyprints outlet servicing all of Bedfordshire and surrounding areas.
Babyprints Bedfordshire is part of the UK's leading brand in casting and impressions.
Good customer database and repeat business
Babyprints Bedfordshire produces high quality work, further establishing Babyprints as a market leader as well as resulting in new business from word of mouth
Huge potential to grow the business across an affluent area for Babies, families and pets.
5 year contract time
All-inclusive design service
Print and online marketing and business stationary designs ready
Business email, webapage and database set up
Social media accounts setup and running, Admin rights would be transferred to buyer
Use of all high quality photos taken for marketing.
Sample frames for buyer to use for display and to show customers
All working tools and kit
Business run from home to keep overheads low as well as giving owner full flexibility to structure the business around their own lifestyle and other commitments
Opportunity to include Pet Paw Prints
4-day training included in sale price
Buyer will also have full support of the Babyprints franchise team.
Have a look at the various products you would learn to make and sell.

Lisa Knight – your local Biggleswade Babyprints specialist.
Babyprints specialise in providing a handprint and footprint casting service for babies, children and even adults. Unlike hand and foot casting kits, we do all the work for you – with guaranteed quality results every time.
From framed baby hand prints and foot prints to stand-alone hand and foot metal cast statues – we have something to suit every occasion and budget. Each babyprint is unique – and you get a vast array of framing colour combinations to choose from. Babyprints make a perfect gift for proud new parents and grandparents alike.
for a first class service and quality products, contact Lisa Knight Babyprints Biggleswade
Bedfordshire Babyprints Business for sale
https://babyprints.co.uk/wp-content/uploads/2019/07/LK-Sales-Leaflet-2019a.jpg|http://www.babyprints.co.uk/wp-content/uploads/Thriving-London-Business-for-sale.jpg|http://www.babyprints.co.uk/wp-content/uploads/LK-Sales-Leaflet-2019.jpg