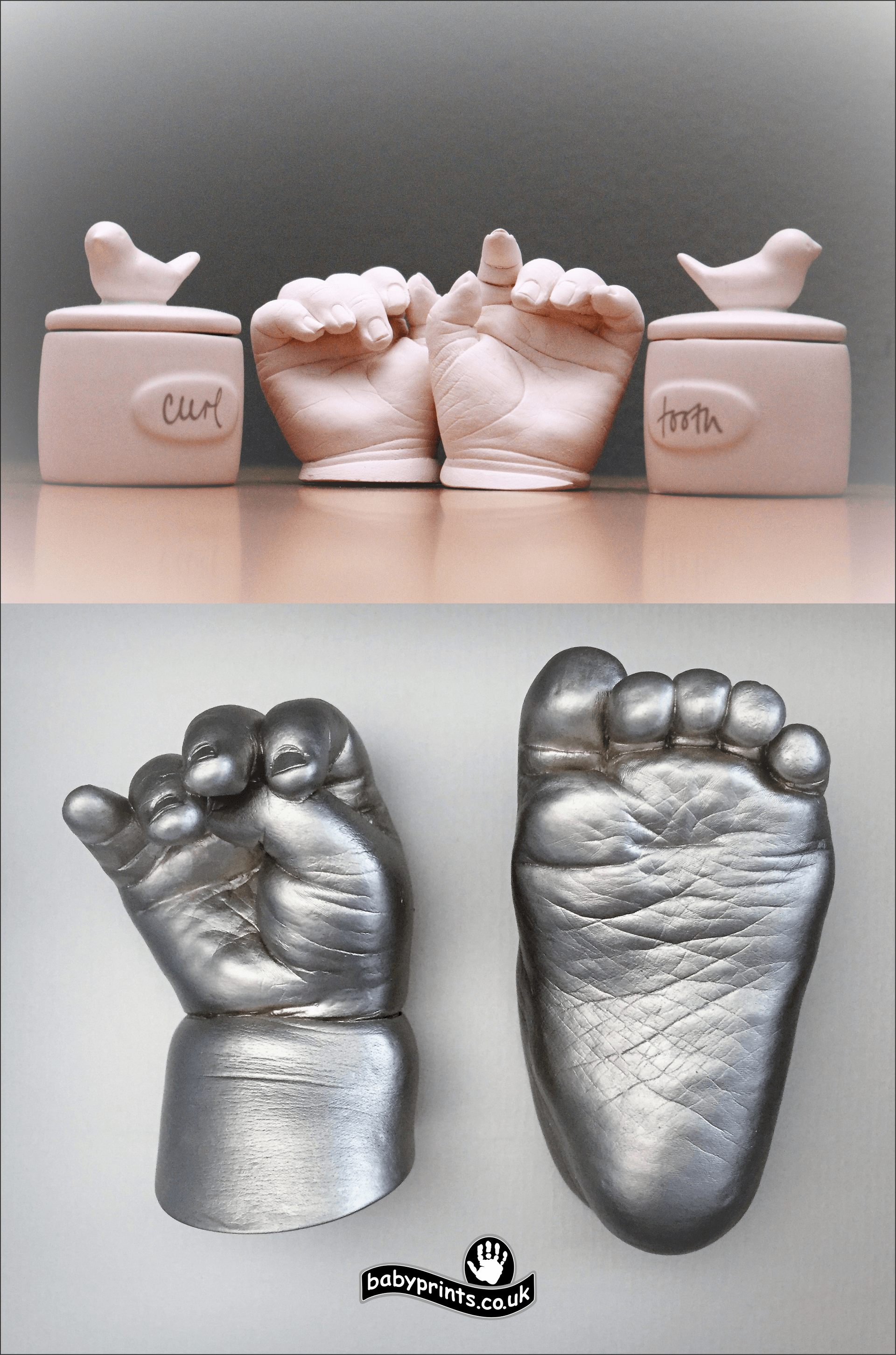 Babyprints solid casts and individual statues can be framed in a unique wall art or be displayed standalone.
Babyprints in London produces beautiful life art with intricate detail applied to each piece of work.
Baby keepsake statues are a wonderful way to capture the tiny creases and curves of your baby's hand and foot.
Babyprints have many styles and varnish options for your cast, in the photo you can see the natural baby hand casts at the top and silver gilt varnish at the bottom on the baby hand and foot.
These quality castings were taken and completed by Babyprints Ealing in London.
There are many more quality cast and photo presentation examples on display at the Babyprints Ealing webpage.
Babyprints prides itself on close attention to detail that picks out all the tiny features that are soon forgotten.
Dont settle for less! find your nearest Babyprints and book your apointment.
It's all in the skilled casting appointment and finishing!
If you would like to know more details please call us on 01279 656525 for more information or to find your nearest Babyprints.
You can also email us at [email protected]
You can find your nearest Babyprints by selecting your location on the UK map.
If you are thinking of a cast gift, the links below lead to many ideas and product styles.
View many classic product ranges here
view bespoke designs chosen by our customers here.
Classic Baby hands and feet presentation frames
Rococo style Swept Frame presentations
Family hand print and foot print presentation frames

Solid silver charm ideas
Cufflink Ideas
Key ring and dog tag Ideas
you can also download the Babyprints Product Brochure showing samples of our classic ranges.
---
Baby keepsake statues – Babyprints Ealing