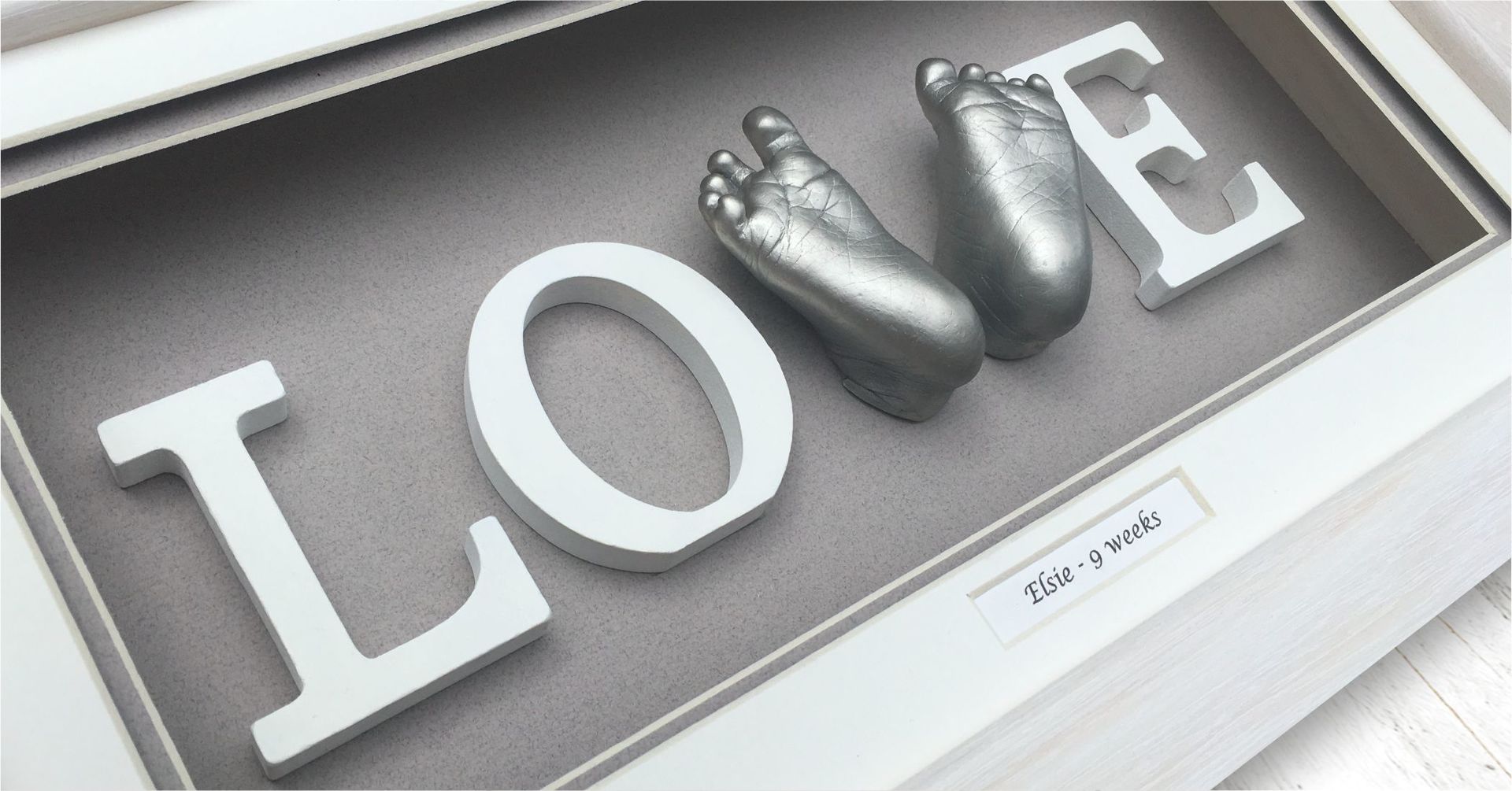 By appointment only
One Brook Cottages,
Broad Oak,
Botley,
Southampton,
Hampshire SO30 2EU
Zoe, your Babyprints Southampton life casts Specialist
Babyprints specialise in providing a hand and foot casting service for babies, children and even adults.  Unlike hand and foot casting kits, we do all the work for you – with guaranteed quality results every time.
From framed casts, to baby hand prints and foot prints embossed into beautiful solid silver jewellery; and even stand-alone hand and foot metal cast statues – we have something to suit every occasion and budget.
Our Babyprints frames are handmade in solid wood, and are of superior quality. We have numerous options for mounts and finish combinations, so each Babyprint product is bespoke and unique, tailored to be in keeping with your own style and taste, and therefore making the perfect keepsake or gift for proud new parents and grandparents alike.
Making an appointment:
All castings are on an appointment only basis and my regular hours of business are from Tuesday to Friday between 11am and 4pm.
Please call or email me during these times if you wish to make an appointment, where I would be delighted to discuss anything further with you should you require any more information.
Why come to me at Babyprints?
I am a highly trained 3D casting specialist, having honed my skills under the exceptionally experienced and watchful eyes of Donna Richardson, head trainer of the Babyprints franchise network.
Babyprints Southampton offers a very friendly and flexible service, specialising in 3D casting and solid silver jewellery.
Our independent businesses are also part of a long established parent company, being the brand leader for 20 years, so we can maintain a consistency in both the quality of our work and our frames, not only now but for the future.
Our franchises have been casting little hands and feet for many years and our highly satisfied clients have returned time and time again with babies and siblings alike for beautiful keepsakes to adorn their walls. We have enjoyed seeing whole families grow over the years and have been kept busy charting their progress.
Taking the casts:
The 3D casting is a simple process and involves gently immersing each hand or foot into a lukewarm syrupy material, the consistency of thick custard, which sets within 10-15 seconds to form a rubbery mould from which the hand or the foot is easily removed.We use a high quality, hypoallergenic moulding powder that gives a fine cast and an excellent result, which allows us to capture all those precious minute details that you will treasure forever.Your personal casting appointment will usually take between 45-60 minutes; this includes a short consultation, time to take the casts, and to choose your frame and finish.All our frames are handmade to order for each of your chosen cast combinations, and the finished framed piece is usually ready for collection within 4-6 weeks.
You can view some beautiful Babyprints products on the Babyprints website by clicking on the following links:
Framed baby hands and feet
Family nurture style frames
Babyprints solid silver jewellery
Brother & sister hand and foot prints
Babyprints Southampton life casts
Zoe made 2 frames casts for me. They're both wonderful and will be perfect presents. She made the process easy and enjoyable, including singing nursery rhymes with me to calm my little one. Fully recommended!

Amy Stevens

I've just received my frame – hand and foot cast. It's gorgeous! I'm so impressed with the whole process and the attention to detail. Thank you Zoe, you did an amazing job!

Vendula Zoubkova

I was a bit hesitant at first to put my little one through this but I am ecstatic that I did. Zoe had so much patience for both, our baby Olivia as well as us parents, walking us through the process step by step and making sure that we are all comfortable with everything at anytime. And the result speaks for itself. We will definitely do this for our second one as well. Thank you so much Zoe for all the patience you had with us (challenging we were at times I know!) and the amazing memorabilia you have created for us. We will 100% recommend to everyone!

Michaela Louzkova

Thank you so much Zoe, we loved the cast. Looks so amazing and natural. Will definitely recommend you.

Neemisha Savani

Absolutely fantastic and very personal service from Zoe. She did a brilliant job of casting my 4 week old boy, couldn't be happier! Really gentle and thoughtful process and the final product has such great attention to detail.

Jill Dabell

A lovely set (hands and feet) in a great oak frame. Highly recommended. Thanks Zoe

Ian Taylor

We had quite a difficult start when our little girl was born, she had open heart surgery and was very critical, we spent 30 days in hospital and 14 of those were in intensive care, so when we finally were able to take her home we wanted something sentimental and special to keep forever, and that's exactly what Zoe has created for us. Our castings of our daughters hands and feet are really beautiful and all of the work that goes into it just makes it's really perfect. Zoe was a perfectionist on the castings we had done and it met all our expectations and more. We would definitely recommend her work and we will be going back in the future for more special pieces. Zoe was so welcoming, professional and friendly, very accommodating, she even had a changing mat so I could change my daughters nappy whilst I was there. Zoe was really helpful as my daughter wasn't the easiest to get foot castings from, and made me feel comfortable and at ease. We had to do the feet twice, because the first round we only managed to get one good foot, when I went to collect our finished frame with the photo and castings, she had so kindly done us a surprise because of what we have been through, it was a heart cast with the 'good' spare foot we didn't use in the finished product. It was such a lovely surprise, beautiful. Thank you for our experience, and our beautiful finished castings and our surprise casting.

Shelly Clark

Such a fantastic experience. Our little one did not want to cooperate but thanks to Zoe's patience and superhuman casting skills we ended up with two beautiful little casts that we will treasure forever! Thank you Zoe!

Lottie Tollman

Zoe was extremely friendly, helpful and efficient throughout. Her attention to detail is amazing and the finished product was incredible. Definitely recommend. Thank you so much!

Craig Barker

I loved taking our daughter to Zoe. Not only was she welcoming but the end product was 10x better than I could have imagined. I also ordered some jewellery which I love! Would 100% recommend.

Jessica Cutler

Absolutely amazing keepsake! I love the cast of my daughters hand and foot. Zoe was very friendly, made me feel very welcome and was very gentle. She kept me fully up to date in all that is happening with baby's cast frame. Lots of different choices of frames and colours so t he end result can be perfect and it's by far the best thing I have ever got. I will definitely have something else done. Very reasonably priced and I highly recommend Zoe! She is the best!

Ana H

The piece of art that Zoe created for us and our little one is just priceless. We could not imagine it to be any more beautiful that it is. We are so so happy with it and will cherish it forever. When we received the finished product (framed 4 casts with a picture and engraved plaque) it was so breath taking that it brought tears to our eyes. Zoe was so incredibly friendly, professional and gentle when taking all 4 casts of our little one that he slept all way through it!  As he was only 4 days old, Zoe was so kind and helpful that she brought all her equipment and came to do it all at our house. We could see that she had plenty of experience with babies and she knew exactly what she was doing. She took us through the whole process before she started it and it took her no time to take all 4 casts. She also advised us on what kind of picture would work with what type of frame and what colours of casts, frame and the background would go well together and kept us updated regarding the progress, before we received the framed casts. We truly love it and are returning to have more casts and pieces of jewellery done by Zoe! After receiving so beautiful and perfectly finished products we could not trust anyone else to make it for us. Thank you Zoe!

Katarzyna Taylor

So pleased with the final result, looks fantastic. Zoe was really helpful and gave me lots of options and time to choose what I wanted. Great service and will definitely be using again for Christmas presents.

Amy Jackaman

Zoe is very friendly and welcoming. She took the time to explain and guide us to make the right decision for us. She is also very patient especially with a fussy and fidgety baby. Her aftercare service is also very good and helpful. I would definitely recommend her and will go back to her for another casting.

Hinal Shah

I've had the honour of getting Zoe to do all three of my children's casts, may I add, at the same time. Zoe was very patient with them and the masterpiece she produced at the end is just breathtakingly beautiful. She has kept me posted with the progress throughout. I have been recommending her and will continue to recommend her in a heartbeat.

Nahel Soloman

Zoe gave us a friendly and professional casting experience, handling our 6 week old son beautifully whilst producing a beautiful product which we will cherish for ever.

Therese Mathers

Zoe produces the most amazing memories that you'll be able to cherish forever. I cannot believe the amount of details that are captured through one cast. Babies grow up so fast and this is the perfect way to remember those tiny fingers and toes. Zoe has the cutest little studio too which is easy to get to, welcoming and full of products so you can pick something right for you. Zoe is so personable too which is so important when you are trusting someone with your little one. Highly recommended!

Claire Grant