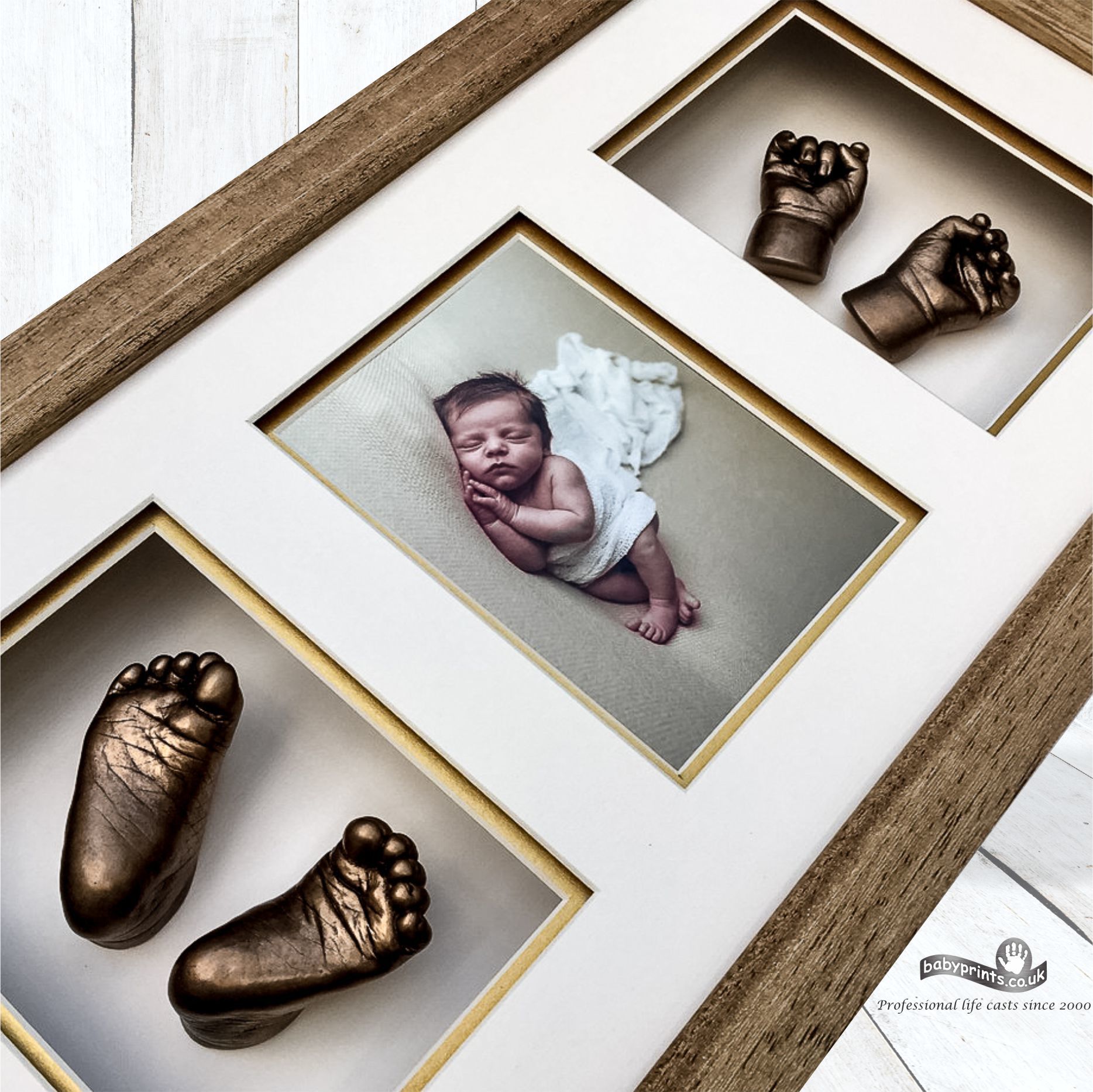 Emma, your Babyprints SE London life Casts & Bromley specialist
At Babyprints SE London life Casts, we specialise in providing a hand and foot casting service for babies, children, adults and families. Unlike hand and foot casting kits, we do all the work for you – with guaranteed quality results every time.
Each Babyprint is unique and can be customised by choosing an array of finishes and complementary frames and mounts to be displayed in your home. From framed baby hand and foot casts and family frames to statues and impressions, we offer something to suit every occasion and budget. We also create 100% silver hand, foot and & fingerprint jewellery.
Babyprints are ideal gifts for a new baby, christenings, Mother's Day & Father's Day as well as Christmas, for parents and grandparents. Sibling & family frames are increasingly popular and hand casts are a lovely idea for a wedding or special anniversary. Gift vouchers are available, please contact me for more information.
Making an appointment
Casting appointments take place Monday – Thursday.  Please call or email to arrange an appointment.
My studio is based in Orpington, with easy access to Bromley, Lewisham, Greenwich, Sidcup and Bexley. I am situated 2 minutes from Orpington train station and have off-street parking available.
Please visit the Babyprints SE London & Bromley social media page at:
Facebook: https://www.facebook.com/babyprintsbyemma/
You can view some beautiful Babyprints products on the Babyprints website by clicking on the following links:
Framed baby hands and feet
Family nurture style frames
Babyprints solid silver jewellery
Brother & sister hand and foot prints
Taking the casts:
The casting is a simple process, and involves gently immersing each hand or foot for about 10 seconds in a lukewarm syrupy material the consistency of thick custard, which sets in 10 – 15 seconds to a rubbery mould from which the hand or foot is easily removed. We use high quality hypoallergenic moulding powder that gives a fine cast and excellent result.
The impressions are taken by pressing the hand or foot into soft clay, from which a plaster tile is created and then framed.
The casting appointment will take 20 – 30 minutes; this includes time to take the casts and to choose your frame and finish. The frames are handmade to order for each child; the finished framed piece is ready to collect in 4-6 weeks.
Babyprints SE London life Casts
Emma is really professional, friendly and is great at getting the casts done from even a wriggly 1 year old! The product is beautiful and she was so kind to schedule me in really quickly, come to my home and even drop off the finished product. I planned to do one hand and one foot but because of the ease with which she did it, I went for a double! Only regret is we didn't do it earlier when my son was younger (because I thought I could do it myself with a home kit!).

Kethakie Lamahewa

I cannot thank you enough for Harvey's casts, I'm absolutely in love with them. You were so welcoming and fantastic with my little one. I can't recommend you enough, I'm so happy and will be back to get a family one done. Thank you for creating something that we will treasure forever.

Natalie Witten

I couldn't recommend this service enough. A close friend purchased a gift voucher for me for my baby shower. Baby Charlie was born a week later and we got his casts done at 2 weeks old. I am over the moon with the finished product, a keep sake to treasure forever, it is now hanging in his nursery. Thank you Emma! Zara & Charlie x

Zara Coleman

I'm over the moon with the outcome of my son's cast. It was beautifully wrapped and presented, I couldn't be happier and was worth every penny!!! Emma was so nice and professional, she made sure I got exactly what I wanted. I'm definitely coming back if I have another baby and certainly will be recommending her to my friends/family.

Satoriey Spence

Fantastic quality. It was a pleasure to work with Emma in making cast for my baby. With a variety of frames and different cast material, you'll be spoilt for choice.highly recommend

Angela Bai

Absolutely love my cast that Emma done for me. Emma wasn't happy with the first setting of my sons hand so she done another one just to make sure she had perfection. Emma went above and beyond for me, she dropped the cast off to my house as she was passing. I would highly recommend. Thank you xx

Michelle Egan

Can't recommend Emma enough! I had a cast done of my daughters hand for Father's Day. Emma was professional and so knowledgeable about the casting and available products, in such an inviting and welcoming environment for my little one! Will be going back for casts in the future as she grows! Thanks Emma

Hayley Cara

Emma was great with my little one, and the end results were fab! Loved the frames! And the grandparents are delighted. Really recommend!

Sophie Beattie

Brilliant service all the way through from Emma. Right from my initial enquiry through to delivering the finished product. Her studio is immaculate and easy to get to from South East London with a baby in tow. She is friendly and professional and I am more than happy to recommend her

Sauraya Amin

So in love with Troy's cast from Emma (Babyprint). Being me and loving arts & crafts I decided to buy a home casting kit… let's just say by the end of it I had a baby that needed a bath, a kitchen that needed replacing and no cast in sight. Emma made it look so simple and Troy loves her. Also my casts were wrapped beautifully, even though mine were for me I wouldn't think twice to get the casts done for gifts.

Ashani Rajapakse