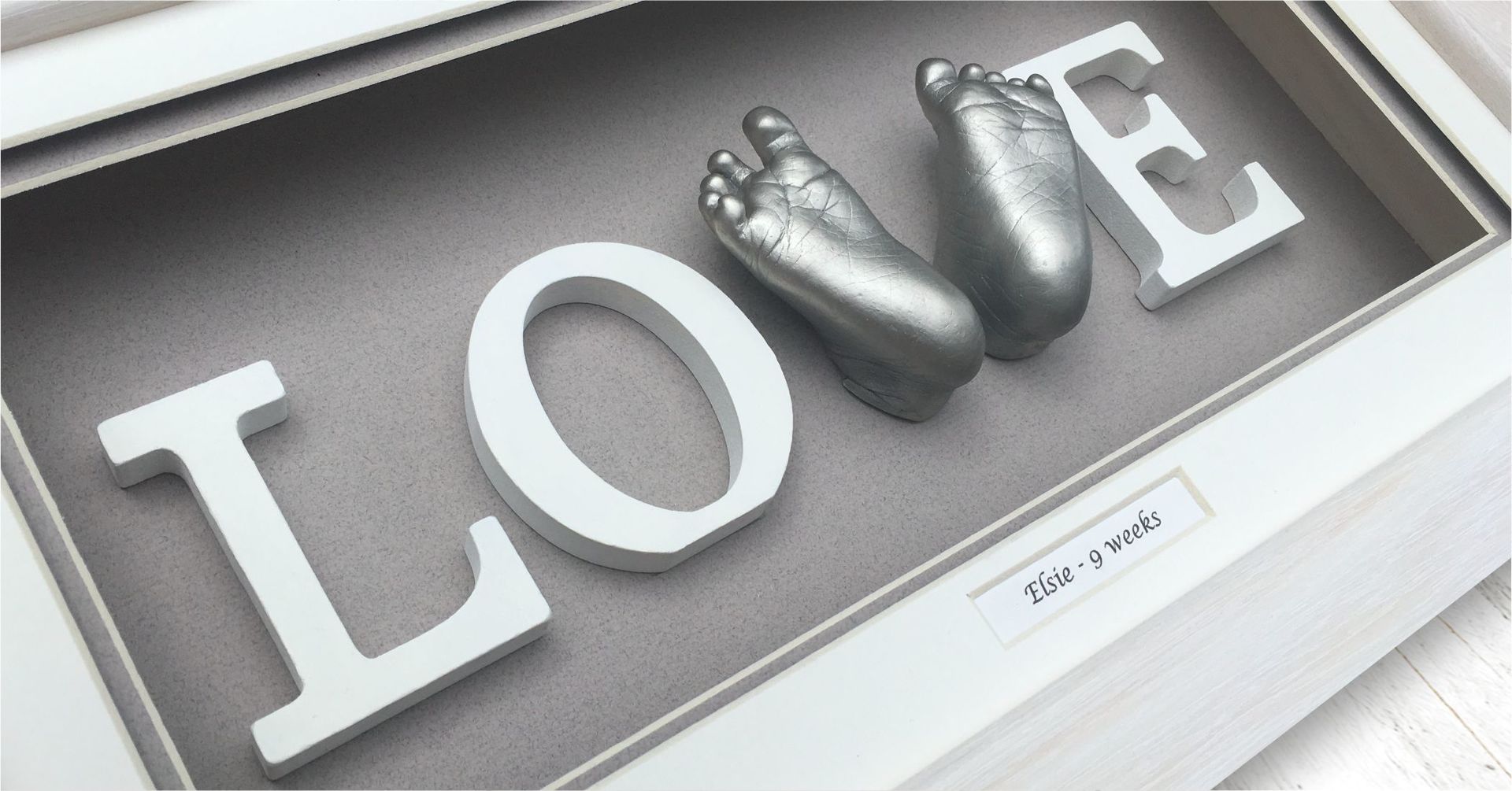 By appointment only
1A Coltsfield
Stansted
CM24 8LH
Donna Richardson, your Babyprints Essex life casts specialist
Babyprints Essex life casts specialise in providing a handprint and footprint casting service for babies, children and adults. Unlike hand and foot casting kits, we do all the work for you – with guaranteed quality results every time.
Babyprints Stansted Workshop is home to all new recruits and where I personally hold training sessions for new franchisees. I have many years casting experience and have the UK Metal Exclusive in the UK.
From framed baby hand prints and foot prints to stand-alone hand and foot metal cast statues – we have something to suit every occasion and budget. Each babyprint is unique – and you get a vast array of framing colour combinations to choose from. Babyprints make a perfect gift for proud new parents and grandparents alike.
Taking the prints:
The casting is a simple process, and involves gently immersing each hand or foot for about 10 seconds in a lukewarm syrupy material the consistency of thick custard, which sets in 10 – 15 seconds to a rubbery mould from which the hand or foot is easily removed. We use high quality hypoallergenic moulding powder that gives a fine cast and excellent result.
The impressions are taken by pressing the hand or foot into soft clay, from which a plaster tile is created and then framed.
The casting appointment will take 20 – 30 minutes; this includes time to take the casts and to choose your frame and finish. The frames are handmade to order for each child; the finished framed piece is ready to collect in 4 weeks.
Why come to Babyprints Stansted
I am a skilled casting expert with years of experience and the head trainer of the babyprints franchise network.
Babyprints Stansted has the exclusive Metal rights for the UK, if you would like statues in bronze, aluminium and copper this is a service I can offer.
Our Babyprints deep exclusive frames are handmade in solid wood, and are of superior quality. We have numerous options for mounts and finish combinations, so each Babyprints is unique and tailored to be in keeping with your own style and taste.
Our independent business's are also part of a long established parent company, being the brand leader for over 15 years so we can maintain a consistency of frames and quality both now and in the future.
Friendly and flexible service
My workshop has been casting little hands and feet since 2001 our clients have returned time and time again with babies and siblings. We have enjoyed seeing whole families grow over the years and have been kept busy charting their progress.
I also offer the full range of Babyprints silver jewellery with hand and footprints. In addition I have some gift options for Grandparents, Godparents and family.
Do email or give me a call for further information, if you are ready to book, or if you would like to arrange to pop in to the workshop to have a look at the options first.
Please visit the Babyprints Essex social media page at:
Facebook: https://www.facebook.com/babyprintsstansted/
Instagram: https://www.instagram.com/babyprints_babyprints.co.uk/
You can view some beautiful Babyprints products on the Babyprints website by clicking on the following links:
Framed baby hands and feet
Family nurture style frames
Babyprints solid silver jewellery
Brother & sister hand and foot prints
Babyprints Essex life casts
Amazing! Xxxxx

Kelly Barnes

2 days training with Donna. She's such a great teacher, makes it look so easy and she filled me with confidence that I can replicate her beautiful work.

Christine Sharman

Spent the morning yesterday have mine and my little 3 year olds hand casted for a present for my husbands 40th. Can't wait to see it and to see his face it will look fabulous and in bronze so will look great on his desk. Thanks Donna you were fabulous xxx

Zoe Morgan Bateman

Donna was extremely friendly and professional putting us both at ease with our little one when it came to the casting and what was required, what was in the mix etc. The results completely surpassed our expectations and our mounted hands and feet are amazing. Highly highly highly recommend Donna and her baby prints services – thank you again

Nicola Elrin

A very lovely lady xx
Thank you so much Donna the boys feet look great all in the one frame together xx
Would defo recommend you to any of my friends xx

Michelle Karen Noble

Donna was grate today, very happy with everything and defo going back for more! Thanks Donna

Kylie L Foulger

couldn't be happier with my service from Donna 2day a lovely lovely lady xx

Robyn Milne

thank you so much Donna for my cast!!!! I'm sooooo pleased with it and will treasure it forever!!!! You're amazing and il be back for more when we give Niamh some siblings!!!

Stacey Sian Nicolaides

Donna is quite possibly one of the nicest people I have had the pleasure of meeting and will go above and beyond to create the results you want. The amount of skill care and detail that goes into the finished product/s are incredible All prices were very reasonable too!
I was blown away with the final impressions and casts. They were beautiful and VERY professional!
I would 110% recommend Donna! I will be going back myself in a few months time for "growing casts"…..she does baby prints proud!

Louise Hill

Big thanks to Donna for our little mans gorgeous hand and foot casts. They are perfect and the detail is amazing. Very happy customers! Xxx

Natalie Collings

Hi Donna – Just a quick thank you for doing a lovely job. Frame looks beautiful on my wall.

Just to say it was amazing to meet you Donna – we had a fab time and love all the casting bits! Thanks again – Jill

Aysha

Hi Donna, It was lovely meeting you today (great to put a face to a name) and thank you for being so understanding with me arriving a little later than I'd hoped!! We are thrilled with the castings and frame, Kay couldn't believe how intricate they are, the bronze is very tactile…….. beautiful.
Be Lucky and thank you again! Oh and by the way Holly will be thrilled with casts, i'm sure she will be in touch with you herself.

Dave