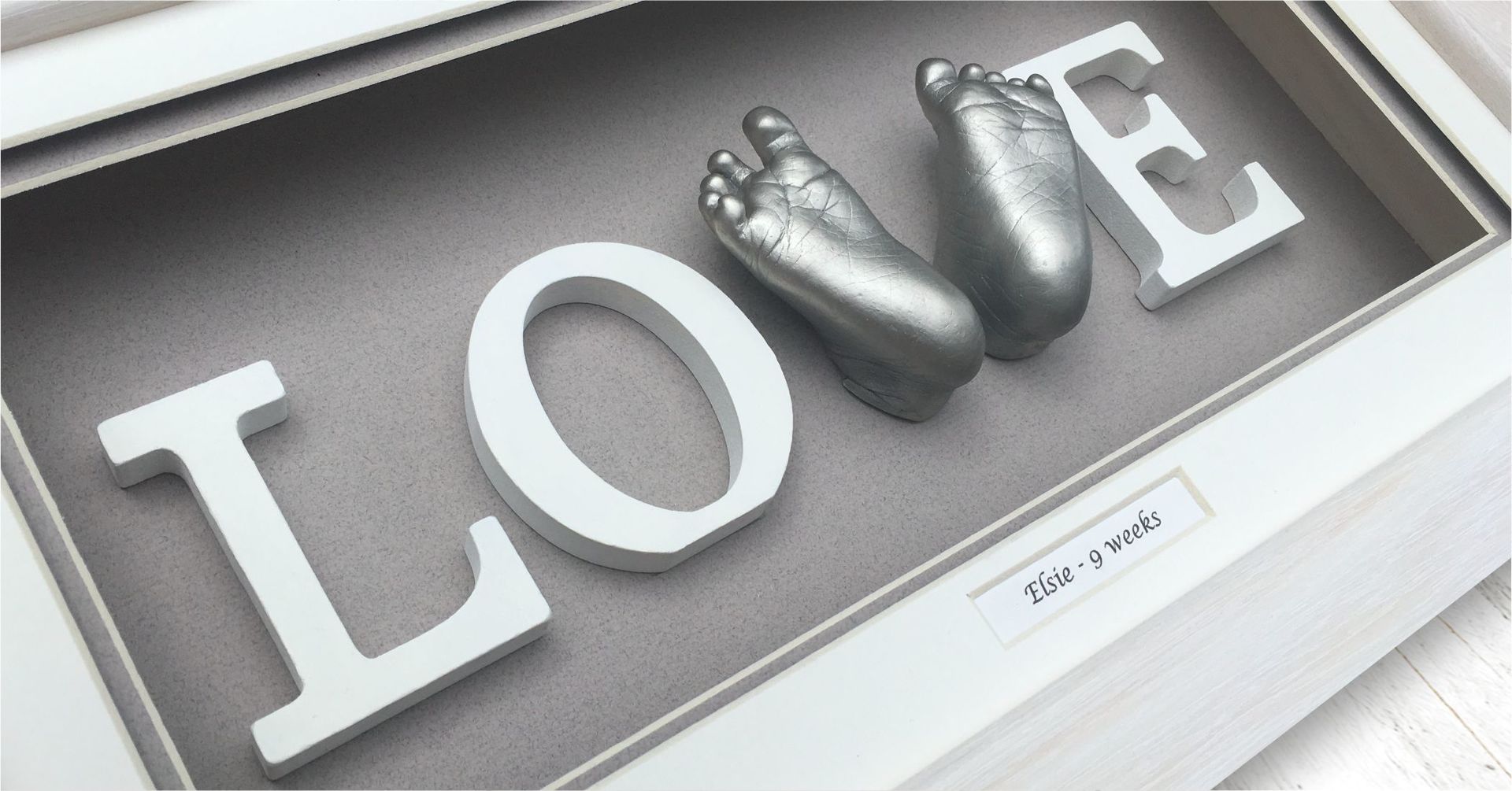 Tunbridge Wells life casts by Christine, a specialist life caster. I've been running my business from a studio in my home since 2014 and I create beautiful casts of newborns, children, families and pets – keepsakes of your loved ones for you to treasure. Casting is suitable from newborn, in fact the youngest baby I've cast was just 36 hours old and my oldest customer a gentleman of 87.
When you commission a casting you're not necessarily paying for just my time but for my years of experience making casts which are a beautiful work of art with guaranteed results every time.
I'm passionate about recording intricate details, especially the tiny wrinkles and creases of newborns not quite grown into their skin yet. Children grow so quickly; one minute they're your precious little newborn, and before you know it they are taking their first steps, starting school, moving to secondary school then all too quickly they've grown up and left home. We all want to treasure the memories of those first days, weeks and months and through a simple process I can help you to remember every wrinkle and crease of their tiny hands and feet forever.
My skills are not limited to children. Over the past 4 years that I have been casting, I have cast numerous teenagers and adults' hands that show so much character, experience and love.
Family casts are a beautiful way to capture that bond between the family, be they siblings, couples or parents with their children. And your furry friends shouldn't be left out either, dogs are also welcome in my casting studio!
So what is the process?
The casting gel I use is made from a seaweed algae and is very safe and gentle even on the most delicate newborn skin; in fact, it's exactly the same product used if you were to have a dental mould.
I mix the powder with luke warm water to make a thick gel the consistency of custard. I then gently immerse the hand or foot, in a short while it sets to a flexible mould and then I can wiggle out the hand or foot. Customers are always fascinated by this process; what starts as a thick pink gel turns into a white rubbery mould and they're amazed at the detail they can see when they look inside. Once the customer has left I then make the stone cast.
Every hand or foot is unique and even now, having made over a thousand casts, the excitement of opening a mould doesn't fade. Until I take off the casting gel I'm never entirely sure how a baby has held it's hand and what will be revealed. It gives me so much pleasure to show the casts to parents especially when they say things like, "oh, he always holds his finger like that", then I know I've truly captured a treasured memory for you.
What happens next?
Once the casts have had time to dry, they can be painted.
I use a high quality gilt varnish that gives a beautiful finish and you can choose from a range of colours.
Most people like to have their casts framed so it keeps them safe, but others like to keep them as statues that they can pick up and touch anytime they like.
This is especially true when I cast older people; once that person is no longer with their family it can bring enormous comfort to still be able to hold their hand.
If you decide on a frame I have a range of premium quality frames to select from and a collection of over 30 mount colours. Each frame is bespoke and handmade to order, so you get to choose exactly what you want to suit your style and taste. Frames are usually ready for collection in 4-6 weeks. One of the best parts of my work (although it's doesn't feel like a job because I love it so much!) is when people come to collect their finished piece. I've had tears of happiness and that makes me really proud of what I've achieved.
If you'd like any more information do give me a ring for a chat. You are welcome to arrange a time to pop into my studio to have a look at options first.
Follow me on Social Media for additional information and special offers.
Facebook: https://www.facebook.com/babyprintstunbridgewells/
Instagram: https://www.instagram.com/babyprints_tw//
Twitter: https://twitter.com/BabyprintsTW
For a first class service and quality products, contact Christine Sharman, Babyprints Tunbridge Wells life casts
I have to admit it's even better than I was expecting…. We couldn't be happier…. We are over the moon…. We are absolutely thrilled …. Worth every penny…. Everytime I look at my little girl's casts I smile …. The perfect keepsake to cherish forever

Anonymous

Christine's work is amazing…. the detail is just incredible…. exceptional quality…….. we will treasure forever and can't recommend highly enough for anyone wanting to capture precious memories

Anonymous

After researching different companies I decided to go with Christine Sharman at Babyprints Tunbridge Wells and I'm so pleased I did. They say to never work with children or animals but Christine clearly has that special touch that meant our "little wriggler" wasn't too put out by the experience

Anonymous

Christine was… a pleasure to deal with…. calm and extremely patient Friendly…. welcoming and professional with a beautifully personal touch… an absolute joy…. made us feel relaxed and at home within her home …. engages well with toddlers and babies and makes the process fun…. clearly very experienced and extremely professional…. went out of her way to help me

Anonymous