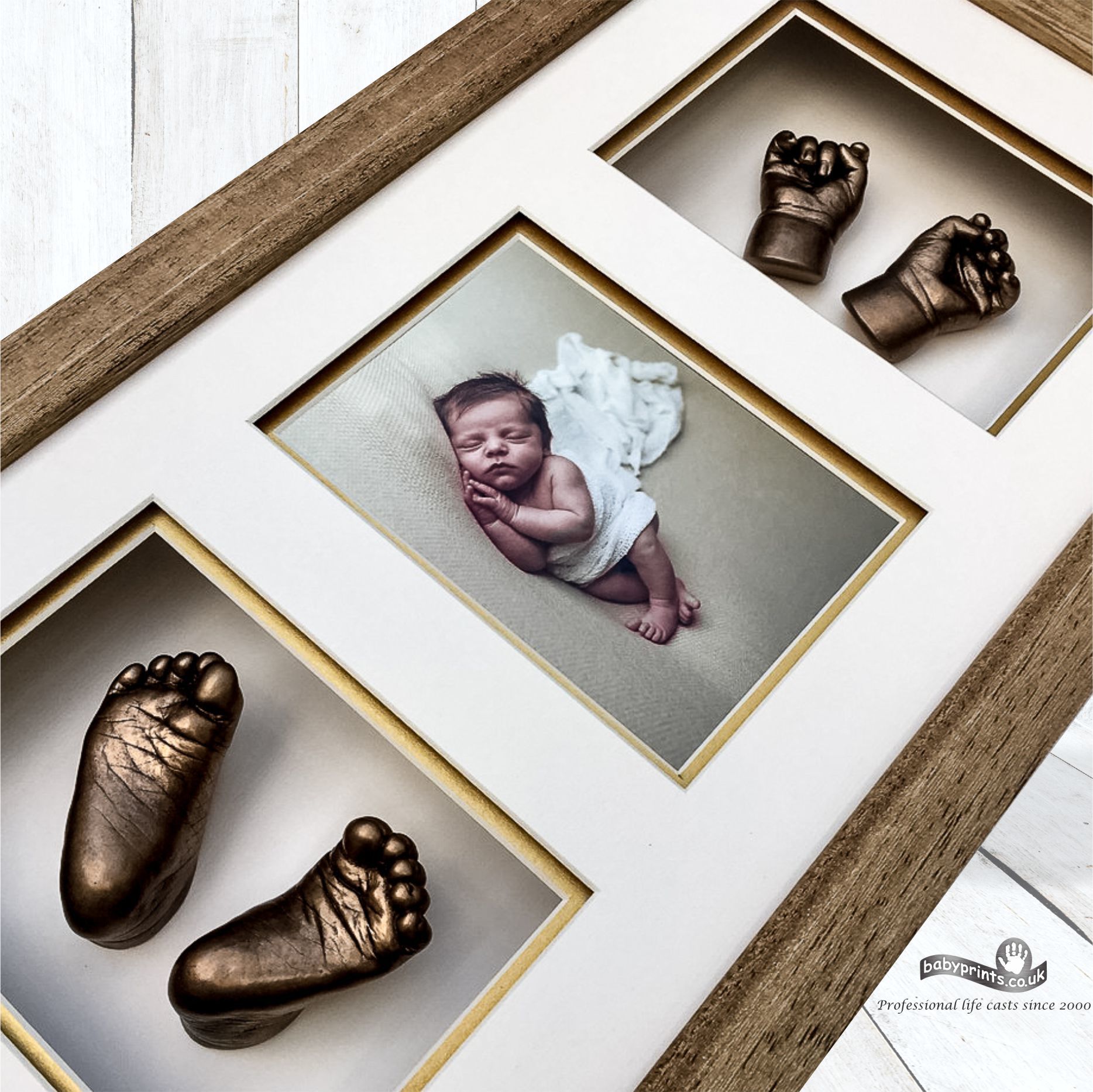 We are sad to state that Babyprints Belfast has decided to stop services
After only a couple of months of trading, Babyprints Belfast has decided to cease trading, we have yet to understand the full details.
We apologise to our customers.
If you would like to know about the Babyprints business opportunity in Belfast please contact Babyprints at 01279 656525.
Babyprints provide quality baby casts near Belfast, we specialise in providing a hand and foot casting service for babies, children, adults.
Unlike hand and foot casting kits, we do all the work for you – with guaranteed quality results every time.
Being creative I was inspired to set up my own Babyprints studio to provide lasting keepsakes for parents and families in Northern Ireland.
Babies grow and change so quickly, I am passionate about providing the highest quality in product.
Beautifully presented keepsakes to enjoy for years to come.
Each Babyprint is unique and can be customised by choosing an array of finishes and complementary frames and mounts.
From framed baby hand and foot casts and family frames to statues and impressions, we offer something to suit every occasion and budget.
We also create 100% silver hand, foot and & fingerprint jewellery.
Babyprints are ideal gifts for parents and grandparents.
A new baby, christenings, Mother's Day & Father's Day and Christmas are a few special occasions for a Babyprints gift.
Sibling & family frames are also increasing in popularity.
Hand casts are a lovely idea for a wedding or special anniversary. Gift vouchers are available.
My studio is based in 30 Ashgrove Lodge, Glengormley, Newtownabbey BT36 6WY,  off-street parking available
Taking the casts:
The 3D casting is a simple process and involves gently immersing each hand or foot into a lukewarm syrupy material, the consistency of thick custard, which sets within 10-15 seconds to form a rubbery mould from which the hand or the foot is easily removed.
We use a high quality, hypoallergenic moulding powder that gives a fine cast and an excellent result, which allows us to capture all those precious minute details that you will treasure forever.
Your personal casting appointment will usually take between 45-60 minutes; this includes a short consultation, time to take the casts, and to choose your frame and finish.
All our frames are handmade to order for each of your chosen cast combinations, and the finished framed piece is usually ready for collection within 4-6 weeks.
You can see further product variety and information on the Babyprints Northern Ireland social media page at:
Facebook: https://www.facebook.com/BabyprintsNorthernIreland/
You can also view beautiful Babyprints products on the Babyprints website by clicking on the following links:
Framed baby hands and feet
Family nurture style frames
Babyprints solid silver jewellery
Brother & sister hand and foot prints
Baby casts near Belfast